How to: Rowing Machine / Rowing Ergometer / Indoor Rowing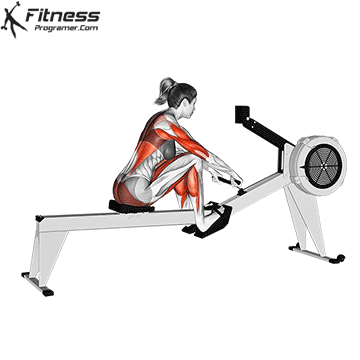 It can be expressed as a rowing machine or rowing ergometer. It is important to understand the biomechanics of the rowing cycle to reap the benefits of this exercise and minimize the chance of injury.
The rowing cycle begins in the finish position with the knees fully extended, the back extended to approximately 30 degrees from vertical, and the elbows flexed into the body at waist level
With the seat forward, begin by holding the handle in both hands and your arms straight out in front.
Keeping your arms straight and your upper body stabilized, push through your legs into the foot pads, driving the seat backward.
Once your legs are fully extended, pull the handle to your upper abdominal area as you lean back slightly. This is now the finish position.
Without rushing. Straighten your arms and lean forward from the hips, moving the handle toward the flywheel. Slide the seat forward until your shins are vertical and you have a slight forward bend. This is now the catch position.
In a fluid and smooth movement begin your next stroke.
Rowing Machine Thecnique
• Do not slouch forward or lean backward excessively.
• Keep a light grip on the handle; avoid a tight grip.
• Never twist the chain or pull it from side to side. Pull straight back with both hands.
• Use both hands to row. Never row with only one hand.
• Avoid bending your wrists or sticking your elbows out to the sides.
Rowing Machine Workout:
Begin your training with a 5 minute warm up (to gradually increase heart rate). It should be performed at a light intensity to warm up your body. Light perspiration is an indicator that your body has warmed up and is ready for an increase in intensity.
The duration of your exercise depends on your fitness level; generally it is recommended that you maintain your heart rate in the training zone for at least 15-20 minutes to realize an aerobic benefit. Beginners should always start slowly and bring their workout sessions up to 20 minutes or more. As your fitness level increases, you will be able to maintain your heart rate in the training zone for longer periods: usually between 20 and 30 minutes.
Rowing Machine / Benefits
The rowing machines are designed to simulate the resistance you face. This resistance forces you to work your muscles harder. The more you increase the resistance of your rowing machine, the more power you need to provide. This means your muscles will work harder.
The rowing machine is a full-body exercise that works all major muscle groups, providing both strength development and cardiovascular benefits. Rowing is helpful aerobically because it forces your body to make repetitive rowing motions. Exercising in your training zone several times a week will strengthen your heart and lungs, as well as lowering your risk of chronic health problems related to excess weight and/or a sedentary lifestyle.
Rowing machine is a non-impact activity and less stressful on the joints than other impact activities. It uses both upper and lower body muscles, so it's an effective and efficient calorie burner. Exercising regularly will help you burn calories and support your weight loss goals.
Rowing has many benefits, including helping you build endurance, strengthen your body, work core muscles, and improve posture. It's a uniquely challenging, dynamic exercise that helps create a baseline of strength and endurance.
Rowing Machine – Muscles Worked
The rowing cycle is commonly divided into four phases:
1. Catch
2. Drive
3. Finish
4. Recovery
At each stage your body is in a different position, and as such there are different muscles being engaged.
Quadriceps
Shoulder
Trapezius
Hamstring
Latissimus Dorsi
Calves
Abs
Obliques
Triceps
Biceps
Glutes