How to perform the Log Lift: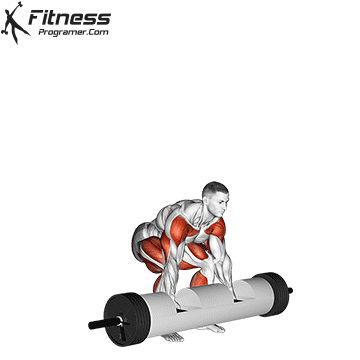 Stand with your feet shoulder-width apart and place your hands on the log or barbell, keeping your grip shoulder-width apart.
Keep your back straight, bend at the knees, and pick up the log, bringing it to your waist.
With the log resting on your waist, take a deep breath, tighten your core, and use your legs to push upward, lifting the log to your shoulder.
Once the log is on your shoulder, maintain a firm grip, keeping your elbow close to your side, and stand upright.
Pause for a few seconds and then lower the log back to your waist, keeping control of the weight throughout the movement.
Repeat this movement for several repetitions, making sure to keep your form and breathing controlled.
Personal trainer tips: It's important to perform the Log Lift with proper form and technique to avoid injury. Start with a lighter weight and gradually increase as you build strength. You can also perform the Log Lift with a partner for extra safety and support.
Benefits of log lift Exercise
This exercise involves lifting a heavy log or barbell off the ground above onto your head, simulating the movement of picking up a heavy object in real life. The Log Lift not only improves strength, but also improves your ability to perform everyday tasks and athletic movements with ease and efficiency.
The Log Lift is a great exercise for building strength in your body, including your shoulders, leg, back, and arms. It also works your core, as you need to maintain stability and control throughout the movement. As you progress, you can increase the weight of the log or barbell, challenging yourself and building more strength.
Incorporating the Log Lift into your strength training routine can help you build a stronger, more functional upper body and core. With consistent practice, you'll see improvement in your strength, stability, and ability to perform everyday tasks with ease.
Log Lift – Muscles Worked