Lever One Arm Chest Press
Lever chest press is a weight training machine designed to help you strengthen and tighten the muscles in your chest. Because the lever chest press is performed unilaterally, you can achieve a greater range of motion than with a traditional barbell or dumbbell press. This can help to stimulate muscle growth and improve overall muscle development.
How To do: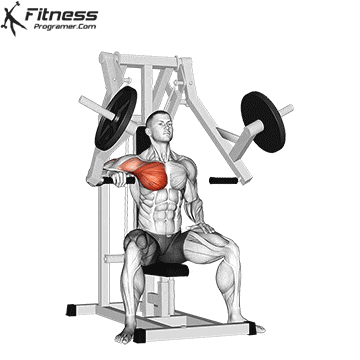 Instructions for performing the exercise:
Adjust the seat height so that your elbow is level with the handle of the machine.
Sit down on the machine and grip the handle with one hand.
Position your elbow at a 90-degree angle, so that your upper arm is parallel to the ground.
Slowly push the handle forward, extending your arm and contracting your chest muscles.
Pause briefly at the end of the movement, and then slowly return to the starting position, keeping your elbow at a 90-degree angle.
Repeat for the desired number of reps, and then switch to the other arm.
Lever One Arm Chest Press: Benefits
The lever one-arm chest press is an exercise that primarily targets the chest muscles, but also engages the shoulders and triceps to a lesser degree. The unilateral nature of this exercise means that it is performed one arm at a time, which can help to improve muscle imbalances and develop a stronger mind-muscle connection. Many people have a dominant arm that is stronger than the other. By performing the chest press unilaterally, you can identify and correct any muscle imbalances that may exist.
Lever One Arm Chest Press

– Muscles Worked
Target - Pectoralis Major, Sternal
Synergists - Anterior Deltoid
Synergists - Triceps
Synergists - Clavicular
Dynamic Stabilizers - Biceps Brachii