Push-up
A push-up is a calisthenic exercise that involves lifting and lowering your body using your arms. They are commonly used to build upper body strength, improve core stability, and enhance overall physical fitness. Push-ups can be performed virtually anywhere and require no special equipment, making them a convenient exercise for home workouts or when you don't have access to a gym.
How To Do:

Starting Position:

Begin by getting into a plank position with your hands placed on the floor, slightly wider than shoulder-width apart.
Your body should form a straight line from your head to your heels. Engage your core muscles to maintain stability.

The Descent:

Lower your body toward the ground by bending your elbows. Keep your body in a straight line throughout the descent.
Lower yourself until your chest is just above the floor or as far as you can comfortably go while maintaining proper form. Your elbows should be at about a 45-degree angle to your body.

Push:

Push your body back up to the starting position by straightening your arms. Exhale as you push up.
Fully extend your elbows without locking them at the top of the movement.

Repeat:

Perform multiple repetitions of push-ups, aiming for a full range of motion and maintaining good form throughout.
Tips for Proper Form:
Keep your body in a straight line from head to heels.
Don't allow your lower back to sag or your hips to rise excessively.
Maintain a neutral neck position by looking at a spot on the floor a few inches in front of your hands.
Breathe in as you lower your body and exhale as you push back up.
If you're new to push-ups, you can start with your knees on the ground for a modified version to build strength before progressing to standard push-ups.
Push-up Benefits
Strengthens Chest Muscles: Push-ups primarily target the pectoral muscles (chest), helping to build and tone the chest muscles, which can improve your upper body strength and appearance.
Strengthens Triceps: Push-ups also engage the triceps, the muscles at the back of your upper arm. This helps to strengthen and tone these muscles.
Strengthens Shoulders: The anterior deltoids in your shoulders are engaged during push-ups, contributing to shoulder strength and stability.
Core Stability: Push-ups require you to engage your core muscles to maintain a straight body position. This helps improve core strength and stability.
Improves Posture: Strengthening the chest, shoulders, and core can lead to improved posture, as these muscles play a key role in maintaining an upright position.
Enhances Upper Body Endurance: Regular push-up practice can increase your upper body endurance, allowing you to perform other exercises and activities more effectively.
Boosts Metabolism: Like other strength-training exercises, push-ups can help increase your metabolism, which may assist with weight management and fat loss.
Increases Bone Health: Weight-bearing exercises like push-ups can help improve bone density, reducing the risk of osteoporosis as you age.
Low Impact: Push-ups are generally low-impact, making them suitable for individuals with joint issues or those who want to avoid high-impact exercises.
Functional Strength: Push-ups mimic functional movements, such as pushing a heavy object or getting up from the ground. This can improve your ability to perform everyday activities.
Improved Mental Health: Exercise, including push-ups, can release endorphins, which are natural mood lifters. Regular physical activity is associated with improved mental well-being and reduced stress.
Heart Health: Engaging in regular exercise like push-ups can contribute to better cardiovascular health by lowering the risk of heart disease and improving blood circulation.
Push-up – Muscles Worked
Target - Pectoralis Major, Sternal
Synergists - Pectoralis Major, Clavicular
Synergists - Anterior Deltoid
Synergists - Triceps Brachii
Synergists - Trapezius
Dynamic Stabilizers - Biceps Brachii
Stabilizers - Rectus Abdominis
Stabilizers - Pectoralis Minor
Stabilizers - Serratus Anterior
Stabilizers - Obliques
Stabilizers - Quadriceps
Antagonist Stabilizers - Erector Spinae
Antagonist Stabilizers - Latissimus Dorsi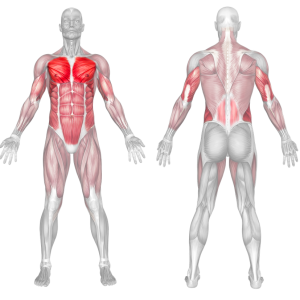 Push-up Variations
Push-ups can be modified and progressed to suit your fitness level. You can start with knee push-ups and work your way up to more challenging variations like diamond push-ups or one-arm push-ups.